» Priority Listing
STATUS
New Zealand: Rare
Overseas: Rare
Importation: 1902

Large Black or Devon Pigs
A Rare Breed of British Origin

Large Black (Devon) pigs in Canterbury
(Trotter/McCulloch photo)
Although the term 'Devon' pig is an alternative name for the Large Black, its origins lie also in neighbouring Cornwall, as well as in Suffolk and Essex. Originally, the breed as it developed in the Devon/Cornwall region in the west was of a dissimilar type to the strain of Large Blacks found in the eastern counties of Suffolk and Essex. This is perhaps not surprising with the whole width of the widest part of the British Isles lying between the two principal groups.
Although having common ancestry, the Large Blacks of the west were shorter-bodied with stronger bone and heavier heads – altogether rounder and thicker pigs than those of the east which tended to be longer and flatter-sided with much lighter head and bone. However, both types of these black pigs were prolific and hardy, quick growing when young, with the sows being docile and good mothers. In size they were only a little smaller than the popular Large White, two of the main points of difference (other than colour) being the Blacks' better temperament and their long lax ears.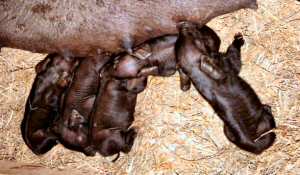 Large Black (Devon) piglets – one day old (Photo by Inger Keymer)
With the formation in England in 1899 of a Breed Society for the Large Black (with a formally published breed standard), many of the differences between east and west were largely ironed out as stock was more freely exchanged and the popularity of the breed increased and it became widely distributed. (It is said that the breed type as standardized was weighted in favour of the western-style strain of pig and this may account for the acceptance of the alternative breed name of Devon.)
The Large Black was particularly noted as a pig well adapted for outdoor life, not being susceptible to sunburn, and doing well on grazing alone. And it was a producer of good bacon.
It was these latter attributes in particular that led to its introduction to and spread within New Zealand and other countries, at a time when many farmers, regardless of their principal farming interest, kept one or two baconers as a sideline and wanted them to be as easycare as possible. Its docility also made the Large Black popular as a backyard pig.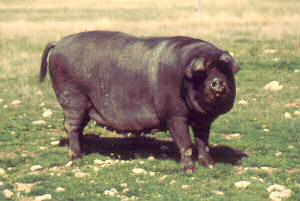 Large Black (Devon) sow
(Trotter/McCulloch photo)
The Wanganui Herald of 19 November 1902, page 5, noted "A novelty in the shape of a large black Devon boar, said to be the only one of the kind in the colony" was exhibited at the Wanganui Agricultural Association's Annual Show.
Like many livestock breeds kept almost solely for eating, the Large Black has been affected by changes in fashion with respect to food as well as the new management techniques used to produce it. Today's Supermarket clientele demands that its pork has white meat and that both pork and bacon have light-coloured skin. The pork of the Large Black tends to be somewhat darker than that of white breeds, and while it does have a pink skin, any remnants of hair which remain on it after processing show up strongly as a sort of five o'clock shadow. White hairs are less visible, and if they do show are apparently less gastronomically displeasing.
Nor is the breed with its preference for a free-ranging habitat suitable for the intensive, shed-rearing methods used by today's pig-producers.
It was these factors that led to such a rapid decline of the Large Black population – a decline culminating in the 1980s in the survival of just one aged sow representing the breed in its pure state in New Zealand.
By 1998 as a result of the efforts of the Rare Breeds Conservation Society the Large Black appeared to be making a successful comeback (see » Large Black Rescue Project). However, a survey in 2002 indicated that it was again "critically endangered".
• » Breeders Directory listing •
© Copyright