Suffolk Punch Rescue Project
A Project of the Rare Breeds Conservation Society of New Zealand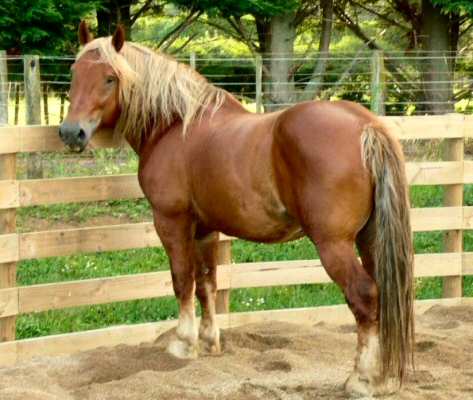 Suffolk Punch stallion Capleach Jackson
Back in 2014, the Rare Breeds Conservation Society of New Zealand was made aware of the critical state the Suffolk Punch horse was in here in New Zealand. Only two known pure bred horses remained – the stallion Capleach Jackson and a mare, Calcott Calendula. Calendula had never carried a foal to term and was approaching the end of her reproductive life. Knowing that the situation of the oldest British horse breed in Britain world wide, a fundraising campaign was started to collect semen from Jackson and hopefully eggs from Calendula. In 2016, semen from Jackson had been successfully collected and was certified for export. Jackson turned out to be the least related stallion to all current UK sires, making the small number of semen straws the Rare Breeds Society currently holds very valuable indeed.
In August 2017, devastating news came from Jackson's owner – his stallion sustained a serious injury and had to be euthanized. Quick thinking and a concerted effort from Jackson's owner, Michael Willis and Greg McKay from Xcell breeding services resulted in Jackson's testicles being sent from the Waikato to Christchurch in a chilly bin for semen straws to be retrieved. Fifty-eight straws of Jackson's semen were successfully extracted and are held at Xcell. These straws are not certified for export.
In late 2017 the news of the existence of two part-Suffolk Punch mares, Misty and her daughter Iris, reached the Rare Breeds Society. Iris was sired by Capleach Jackson.
Suffolk Punch mare Calendula (left) with Iris and Misty
Early in 2018, Misty was inseminated with Jackson's semen but unfortunately this did not result in a pregnancy. A second attempt in late 2018 was also unsuccessful.
In the meantime, the Suffolk Horse Society of Great Britain had initiated the collection of semen from the magnificent UK stallion Craikhow Hall Jensen, sent it to New Zealand and made it available to inseminate both Misty and Iris. Misty is currently at Equibreed in the North Island, ready to be inseminated. If this last attempt is not successful, Misty will be retired from breeding.
Iris, a grade B mare out of Misty and Capleach Jackson (now deceased), is still too young to be bred from. However, as the Suffolk Horse Society has recently taken the decision to assess Suffolk Mares with 75% percent Suffolk blood and include them fully into the Stud Book (not the International register), Iris' female offspring will be eligible to be entered into the Suffolk Punch stud book – a very exciting prospect.
A final attempt is to be made at harvesting eggs from Calendula, the last remaining purebred Suffolk Punch mare in New Zealand, to create embryos. Being well over 20 years old, Calendula will be retired after this attempt. This may leave Iris as the only mare of breeding age for the Suffolk Punch project in New Zealand but with the semen from the UK there may well be a future for the Suffolk Punch in New Zealand.
Iris
Misty
Both Misty and Iris have good Suffolk Punch characteristics and we wish their owner, Sarah Elliott, every success with breeding from her very special horses.
If you would like to support the Rare Breeds Conservation Society of New Zealand and Sarah with the Suffolk Punch project, you can make a donation to the Society's account

03 1355 0685162 00

. Please specify "SP Project" and your name. If you happen to know of any further part-bred Suffolk Punch mares in New Zealand, please let us know. Mistyvale Oberon, the stallion who most likely sired any such mares, started his reproductive life near Auckland and ended it near Invercargill so his offspring may be found anywhere in New Zealand. Please email

editor

 

(at)

 

rarebreeds.co.nz

with any information you may have. Thank you.
Thanks to Marina Steinke for the above information, and to Sarah Elliott and Kate Johnson for photographs.
© Copyright January 2019