STATUS
Although the Southdown is a breed of considerable historical importance to the New Zealand sheep industry, it is now rare in its original form, with current breeding stock being recently imported from Australia.

Southdown Sheep
If you pick up any historical publication on sheep you will probably find the Southdown (originally South Down from its area of origin) discussed in detail. This small, stocky mouse-brown faced downland sheep has been of tremendous importance both in Britain and New Zealand – not only as a producer of the very best fat lambs but also as a progenitor of many other sheep breeds.

Original type of Southdown ram
Southdowns, as a breed, have been around since at least the sixteen hundreds – and probably much earlier – in their native Weald of Sussex. Their development into a premier British breed was carried out by John Ellman of Glynde, starting in 1780.
Southdowns first entered New Zealand in the early 1840s, the most typical of Down breeds, with short fleeces, brownish faces and legs, long backs, and extremely well-developed and meaty hind-quarters. Animals matured very early. With the commencement of the refrigerated lamb trade, the Southdown became a dominant fat lamb sire.

Modern Southdowns in New Zealand (Photo from Euan & Karen Mclachlan)
In recent decades, however, preferences have swung away from this plump little animal to leaner-carcassed breeds. As a result, the Southdown breed was placed on the rare breeds Watchlist in its British homeland, though numbers have subsequently recovered somewhat. In New Zealand its numbers have also been considerably reduced – although the modern Southdown line has been developed to combine the fast-maturing qualities of the original breed in an animal with a much lower fat content in its meat (as in the photograph at right).
The Southdown is still an easy-care, versatile breed with a good lambing rate and is well worth conserving as one of New Zealand's most historically significant sheep imports.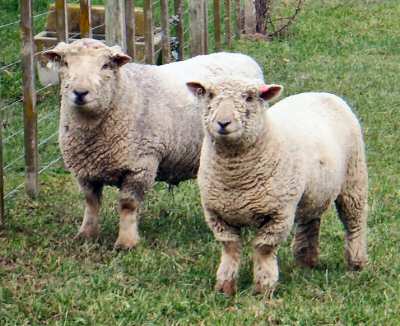 'Babydoll' Southdowns in New Zealand (Photo from Fatima Avdic)
Interestingly, the original small Southdown has seen a resurgence in recent years as a novelty breed under the name of "Babydoll" or "Miniature" sheep. They have been used specifically in North America and Great Britain to eat the undergrowth in vineyards and orchards, and as "lawn mowers" on lifestyle blocks. It is said that due to their stocky build, with a mature height of between 42.5 and 60 centimetres at the shoulders, they are limited in how far they can reach to cause damage to growth on trees. There are currently only few of the original or "Babydoll" Southdowns in New Zealand – the three-year-old ram and younger ewe in the adjacent photograph were imported from Australia.
© Copyright