HOUDAN:
Probably the oldest French breed, it is characterised by its large crest, muffled face and glossy green-black colouring, mottled with white.
•
Breeders Directory
•
INDIAN GAME:
This massive Cornish bird was developed in Britain to produce abundant breast and thigh meat. It has been described as the 'macho' of the poultry world.
•
Breeders Directory
•
JAPANESE:
The striking, extremely rare Japanese Bantam is purely ornamental, with very short legs and a remarkably long and erect tall rising well above head height. It has been developed by fanciers into a variety of colours.
•
Breeders Directory
•
MODERN GAME:
These long-legged game chooks were produced by crossing the Old English breed with the Malay chook. Half-a-dozen colour varieties are recognized.
PEKIN:
The best known of the true bantams. Quiet, friendly, and easily handled it has great appeal with its round, dumpy outline and feathered feet. It has been developed into a wide range of colours.
•
Breeders Directory
•
POLISH:
An unusual and very old breed with a spectacular head crest and virtually no comb. It is almost entirely a 'fancy' or show bird today. It is, however, an active breed which can do well in the farmyard.
•
Breeders Directory
•
ROSECOMB:
Physical perfection in straight out proportion and balance is the salient characteristic of the British Rosecomb. Most popular in pure black with a brilliant green sheen, with face, comb and wattles of bright cherry red.
•
Breeders Directory
•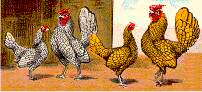 SEBRIGHT:
The Sebright, another ornamental bantam, was produced in Britain about 1800; the cock bird is 'hen feathered,' that is, it has no neck hackles or tail sickles. It comes in gold and silver varieties, both black-laced.
•
Breeders Directory
•
WELSUMMER:
The Dutch Welsummer is noteworthy as a producer of deep brown eggs. Most birds are of the standard brownish or 'partridge' colouring, but this can be variable, especially when they are rare, as in this country.
•
Breeders Directory
•