STATUS
New Zealand: Rare
Importation: 1905

Wapiti or Elk
A Rare Breed of North American Origin

Wapiti bull in velvet
The relationship of the American Wapiti to the European Red Deer has been a question of some debate over the years, and several DNA studies since 1998 have produced varying conclusions. A 2006 study, however, places them in different species, though in fact the two can interbreed.
Although world wide the name Wapiti (from the Cree Wapitik) is preferred – because Elk is also used for other species – in New Zealand it has become customary to refer to purebred animals as Elks and grade or crossbreds as Wapiti. This came about because prior to them being farmed in this country, Wapiti in the wild interbred with Red Deer, but the name was retained for the crossbred progeny.
The first release of Wapiti in New Zealand was in the 1870s when a male and a female were placed on Kawau Island – the cow subsequently died and the bull was shot.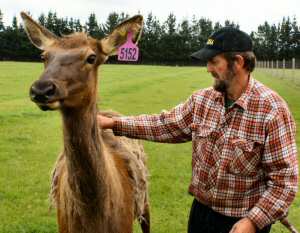 Purebred Elk cow with breeder Murray Cook
A successful liberation took place in the Fiordland National Park, in the southwestern corner of the South Island, in 1905. Twenty animals were obtained from two sources in North America but only eighteen were alive on arrival. Another died soon after they were released. The intention of this release was (presumably) to establish a population of game animals. They were fully protected until 1923, then controlled shooting was allowed until 1934, when all protection was removed. Hunting of them in Fiordland is still carried on today.
The farming of Wapiti and other breeds of deer in New Zealand commenced in the late twentieth century, initially with animals captured from the wild, but genetic improvements have more recently been made with imported blood lines.
© Copyright