BACKGROUND:
The Waipu Goat Angora Story
by Dave Brown
Goats were introduced early in New Zealand's European colonization phase and the Angora goat, distinct from other goat breeds, was no exception. Angoras were farmed in Australia from as early as 1832, but never reached great numbers until the late 1800s. Predation by Dingoes and lack of fencing leading to interbreeding with other goat species were major factors in limiting growth there. The first shipment of goats from Australia was recorded as arriving in New Zealand in the 1860s, and was followed by two further importations soon thereafter. In 1899 a shipment of Angoras was recorded as arriving at Wellington on the vessel Moeraki. These early Angoras had a shaky start in New Zealand and struggled to expand in numbers to any great extent. Inadequate fencing, climatic factors, low numbers of animals, low Mohair prices (if it could even be sold), and antipathy from sheep and cattle farmers were all contributing factors. By 1908 numbers were recorded as being 8500.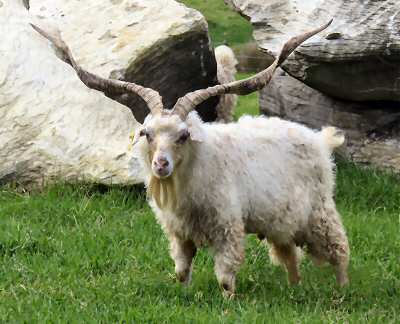 David Brown's Waipu buck "Chingachgook"
Around 1900 the Government set up an experimental farm at Bickerstaffe, Marehemo (near Maungaturoto in Northland) and Angora Goats derived from Australian stock brought into New Zealand by the Auckland Acclimatisation Society were secured to carry out a trial for the control of blackberry. Goats in general are very partial to blackberry and it was hoped that the Angoras would graze it in preference to pasture. This experiment was a failure, as the long fleeces of Angoras led to problems with entanglement, and they do also enjoy good grass, much to the dismay of the farm manager who was developing a fine herd of Jersey milking cows. Thus, in 1904 the Angora Goat trial in this area was abandoned and the stock sold to a farmer from Helena Bay some 70 miles distant.
A drover was engaged, and the goats (70–100 head) were on the road. At the end of the first day's travel the goats were confined in a set of yards on the property of the Finlayson family, and overnight a number absconded into nearby bush. (My grandfather was a friend of Mr D A Finlayson and these events are as he related them to me when he was in his 99th year.) The escapees were not able to be recovered and the remaining goats were duly delivered to Helena Bay and lost to history.
Not so the escapees, however. They seemed to thrive in their new-found freedom in the Brynderwyn Hills surrounding Waipu, eventually spreading right through the hills from Mangawhai in the South to Mata in the North. At times they were hunted by young men for sport, or farmers for pest control, or even by Government cullers to limit their numbers, but they hung on and even increased over time.
Another photo of "Chingachgook"
In the early 1970s, the then Minister of Agriculture (Sir Duncan McIntyre) asked The Department of Lands and Survey to investigate the farming of Angoras as part of a wider farm diversification policy. A number of the wild Waipu Angora Goat population were captured (some by Mr Viv Purdon – a culler/trapper with good local knowledge, and some from the property of Mr Elliott Brown 'Mountfield'). By this time the Angoras were mainly of a reverted type, as many of the heavier fleeced animals had suffered entanglement, but they were still of 'pure' blood as no feral or dairy type goats had been released into their 'patch of bush'. These captured 'Waipu Angoras' were initially farmed on a Lands and Survey block at Waipoua near Dargaville (not to be confused with Waipu) under the management of David McKenzie, and after a few years they were shifted to Waitangi in the Bay of Islands. Imported bucks from Australia were used to improve the fleeces of the breed, which occurred very rapidly, and they became the basis for the Mohair industry in New Zealand we see today. Some other Waipu Angoras were captured by Angora farmers and used as their foundation stock as well.
The Mohair business had a 'boom and bust' cycle, and the demand for stock collapsed in 1987, but by then other breeds of goats had found their way into the Waipu hills, and within a few short years it seemed that the 'pure' Waipu might be extinct in the wild. However, I had always kept Waipu does as foundation animals and when I captured one or two of the few remaining 'pure' bucks I put them together and started a small group of 'survivors'. A further small population of 'pure' individuals was discovered in an isolated patch of bush surrounded by farmland and some were added to the group I had. These are all now in the hands of members of the Rare Breeds Conservation Society except for one aged geriatric gentleman with a massive horn spread whom I named "Chingachgook – Last of the Mohaircans."
First published in
Rare Breeds NewZ
, August 2017.