STATUS
New Zealand: Rare
Importation: 2017

Valais Blacknose Sheep
A Rare Breed of Swiss Origin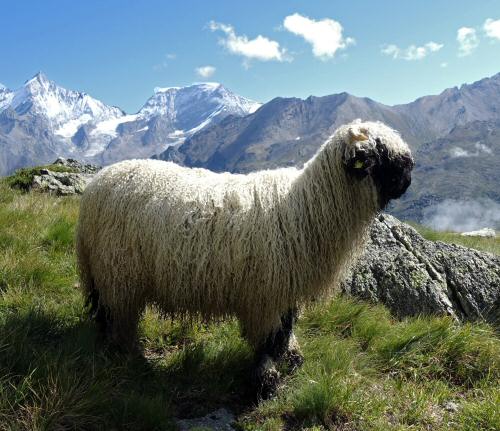 Valais Blacknose sheep in Zermatt, Switzerland.
(Photo by Tiia Monto – Wikimedia)
Valais Blacknose sheep come from the mountainous Valais area in the southwest of Switzerland. It is thought that they probably evolved from sheep similar to the Scottish Blackface, but they did not become registered as a breed in Switzerland until 1962. In spite of their very attractive appearance and behaviour they were not exported to other countries until 2014 when a number were obtained by breeders in the United Kingdom.
In Switzerland the sheep are generally grazed on mountain slopes during the summer months but are kept under cover in colder weather. They are a versatile breed and they have done well in warmer climates in the United Kingdom, North America and New Zealand. Valais Blacknose are fairly large slow-maturing sheep, producing white wool which becomes long and coarse as they mature – they are usually shorn twice per year. Their most distinctive feature is their black nose but they also have black around the eyes, on their ears, ankles, hocks and feet, with black patches on their front knees. The ewes generally lamb easily and can do so all year round. Both sexes have spirally twisted horns, the rams' spiralling downward while the ewes' are smaller and point outwards.
Valais Blacknose sheep at Willowbank Farm, Canterbury.
(Photo by Marina Steinke)
Another characteristic of the breed is their friendliness to humans, having what has been described as "charming" or "endearing" personalities. Although originally a dual-purpose breed there may be a tendency (especially outside Switzerland) for them nowadays to be selected for their "cuteness".
Valais Blacknose sheep were first brought into New Zealand as frozen embryos in 2017. There are now breeding groups in both the North and South Islands – some are fullblood, others are being upgraded using purebred semen with foundation ewes such as Leicesters.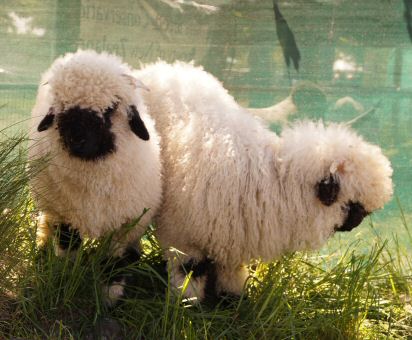 Valais Blacknose sheep at the Canterbury Show.
(Photo by Marina Steinke)
Valais Blacknose sheep at the Canterbury Show.
(Photo by Marina Steinke)
See also:
Sheep NewZ Winter 2019
[Valais Blacknose article by Christine Reed on pages 3-10.]
• Breeders Directory •
• Valais Wool •
© Copyright