» Priority Listing
STATUS
New Zealand: Rare
Overseas: Rare
Importation: 1894

Tamworth Pigs
A Rare Breed of British Origin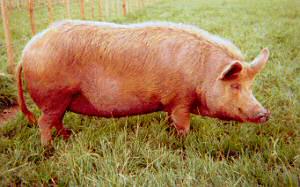 Tamworth sow (Photo by Karen Nicoll)
Tamworth pigs take their name from the town of Tamworth in Staffordshire, England, where they were developed from around the beginning of the nineteenth century. The breed is regarded as being of a rather primitive type, and it has been described as possibly the purest representative of the native English pig. However, there are various conflicting claims and theories as to its origin, and it seems likely that the importation of several "Irish Grazers" from Ireland by Sir Robert Peel about 1812 played an important part in their development.
The breed's most distinguishing feature is its unusual golden-red colouring, and it has a long head, prick ears, a straight face and snout, and a long, narrow body.

Tamworth sow and piglets
(Photo by Jacky Anderson)
It was well established by the 1870s and its first Herd Book was started in 1885. Around this time a large export trade developed for the breed – particularly to North America, Australia and New Zealand.
The Evening Post on 29 October 1894, page 3, reported that "The ship Lake Erie brought out a Tamworth boar and two sows—a breed of pigs never before imported to New Zealand. They are consigned to the Farmers' Co-operative Society, Christchurch."
By early in the twentieth century there were records of red pigs of the Tamworth type running wild in the Otago area, and there are similar reports from other parts of the country.
Primarily a bacon pig, the Tamworth declined in popularity because of competition from modern breeds – nor is it suitable for the intensive shed-rearing methods of today. At the time of setting up this website (2002) there were only five registered breeding sows in New Zealand. The Tamworth is a hardy, easy-care breed and ideal for rearing on pasture.
• » Breeders Directory listing •
© Copyright