STATUS
New Zealand: Rare
Importation: 1904, 1970

Sussex Cattle
A Rare Breed of British Origin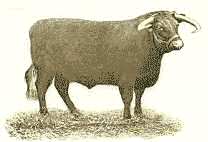 Sussex ox, 1886
The dark red Sussex (together with the similarly coloured Devon) is descended from the horned "red cows" once found throughout much of southern England. In its original form one of its chief characteristics was its long, strong horns – rather similar in style to those of the old English Longhorn).
In their heyday, Sussex cattle were noted for producing powerful, active bullocks suitable for working the heavy land of their native country. As the use of draught oxen gave way to horses, the Sussex became primarily a beef breed.

Some of Simon Pharazyn's Sussex cattle at Kaikoura
(Michael Trotter photo)
The Sussex Herd Book was commenced in 1874, and the breed was subsequently exported to a number of countries, being especially tolerant of a wide range of conditions.
Although it has been widely believed that they did not reach New Zealand until 1970, a purebred Sussex bull was imported to Morrinsville from England in 1904. However, despite the formation of a breed society, they are not widespread, and only a few herds, resulting from both imported purebred stock and graded up animals, can be found throughout the country.
• » Breeders Directory listing •
© Copyright