"Preserving plants and animals that are important to Southland's history"
The Southland Heirloom Breeds Charitable Trust was formed in the last quarter of 1998. Its initial focus was the arrival and quarantining of the rare Auckland Island pigs in Southland. The Trust presently has a herd of these pigs plus a small flock of Hokonui sheep. It also works closely with local seed-savers.
The current trustees are: A. L. Lamb, M. Grant, R. J. Pagan, F. Jensen and G. Dean. T. R. Shadbolt is an Honorary Trustee. The breeding manager is R. J. Fraser.
Auckland Island Pigs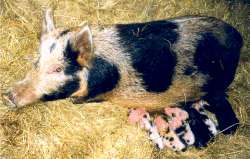 These pigs were rescued from Subantarctic Auckland Island in January 1999 by a Rare Breeds Conservation Society expedition. There had been several liberations of pigs onto the island from as early as 1807. (See also » Auckland Island Pigs breed description and » Auckland Island Pig Project on the Rare Breeds Website.)
When the pigs arrived in Bluff the Southland Heirloom Breeds Trust took delivery of them for transport to the quarantine site. Volunteers tended them from then through to July 2001 when the Trust was able to employ a breeding manager.

Initially some of the sows, that were already in pig at the time of capture, produced litters but later some unexpected piglets arrived. Two active boars were jumping out when work was needed but always home when the attendants arrived. One day the boys were a bit slow and their dalliances were discovered. Due to the prolonged quarantine, breeding had to go on hold and so the pens were modified.
With the end of the quarantine and more labour available, breeding has recommenced, bringing a variety of colours and types of pigs to hand. The colours range from black to black-and-white, while some have red or ginger tones. Conformation varies from leggy and athletic to very cobby, not unlike a Kunekune. Snout lengths and shapes are also variable.
The Southland Heirloom Breeds Trust is committed to maintaining the pigs and is presently working to build up lines that are currently under-represented.
Hokonui Sheep

The Hokonui 'Merinos' are a group of feral sheep which have been found in the Hokonui Hills of Southland for more than a century. Only about 100 remain today in the wild (at one time they numbered around 2000) and another 100 or so are being kept in domestic flocks.
They are descended from Merinos that escaped in the earliest days of farming in the area, and are thought to most closely resemble those of the historic Saxony Merino line. (See also » Hokonui Sheep on the Rare Breeds Website.)


Contact Us and Join Us
The Southland Heirloom Breeds Charitable Trust has a number of supporters and there is the opportunity to adopt animals. They are also displayed at the Southland A&P Show and at other events from time to time.
Visits to the animals can be made by arrangement.