Ryeland ewes and lambs
For the last 30 years we have been breeding minority breeds. Not just with the aim of conservation and supplying like-minded small farmers but also to try and get commercial breeders to find out what these breeds can offer to them. We have both young and mature stock for sale.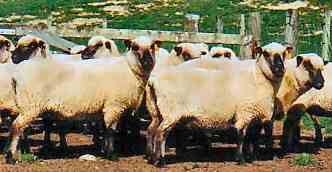 Shropshire ewes
Both the black faced Shropshire sheep bred in New Zealand since 1864, and the white faced Ryeland sheep bred in New Zealand since 1901, have been used principally as terminal sire breeds and are both renowned for good 16-18 kilogram carcasses, hardiness and thriftiness. Modern farmers have rarely heard of them.

Helen with Tania, Masterton Show
Red Poll cattle have been in New Zealand since 1898 and helped establish a lot of sheep farms by providing milk for sale to pay for the further clearance of the rest of the farm. Although still a dual purpose breed no purebreds are now milked in New Zealand although in the UK a specialty cheese is made from their milk.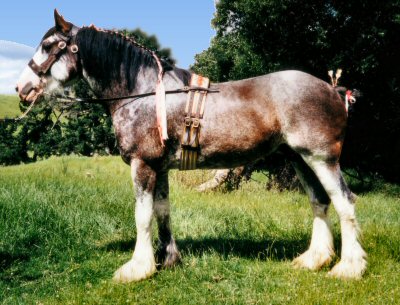 Chief in his finery
The purebred Clydesdale horse was used for cultivation on farms in the pioneering days and as a parent breed for the many lighter harness horses required then. Today they are also popular for breeding crossbreds for eventing, trekking and even dressage.
We have 140 acres northeast of Martinborough. The land is basically rolling and prone to dry spells. Water mainly comes from springs and dams. Previous owners have spent a lot of time in conservation and aesthetic plantings of trees although some of these are due for replacement. We have a good number of native tuis and bellbirds especially when the winter flowering gums are in bloom.
We are members of Farm Helpers In New Zealand (FHiNZ) and occasionally have people to home-stay with us and help with farm or garden work.
Our rare breeds are an integral part of our lifestyle and we hope others will realise their worth as farm animals.
Helen McKenzie and Warwick Potts, Glendoon, R D 4, Masterton. Phone (06) 372 7842 E-mail rosemarkie@wise.net.nz