Website People
Michael Willis
Michael Willis with his
Dexter bull, Centurion
Michael Willis and partner Sue Meager have a twenty hectare smallholding at Halkett, west of Christchurch, New Zealand, where they have a variety of rare animals (see Willowbank Rare Breeds Farm). Michael has been instrumental in the rescue of a number of feral livestock breeds from both mainland areas of New Zealand and offshore islands. He established the Willowbank Wildlife Reserve in Christchurch in 1974. Michael has been associated with the Rare Breeds Conservation Society since its inception and is currently on its National Committee. He is also a Director of Rare Breeds International.
Bev and Michael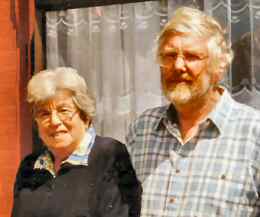 Bev and Michael
Bev McCulloch and Michael Trotter retired from scientific work at Canterbury Museum in the 1990s to live on a ten acre smallholding in Tuahiwi, North Canterbury, New Zealand, where they specialized in raising dun Dexter cattle (see their Dun Dexters website) – also running a few sheep, some Arapawa goats, Buff Orpington chooks, an assortment of bantams, ducks, a dog or two and a farm cat. (Until recently they also had a small stud flock of Dorset Horn sheep, but this has now been dispersed to Ashburton, Palmerston North, Hawkes Bay and elsewhere.) Besides producing and operating the Rare Breeds Website they edited and published the quarterly magazine Rare Breeds NewZ for the Rare Breeds Conservation Society of New Zealand.
Sadly, Bev died from cancer in March 2006, and the above activities are currently continued by her husband Michael.
Sitereh Schouten
Sitereh Schouten
Sitereh Schouten is best known for her work with Enderby rabbits – working with her husband, Chris, she is perhaps the most successful breeder of Enderby rabbits in New Zealand. Both Sitereh and Chris have had an active interest in Rare Breeds since at least 1994.
Sitereh is currently acting as co-ordinator for Enderby rabbits, she organised the successful export of them to the USA, and her Natures Pace webpage on the Rare Breeds Website is highly rated. She also breeds poultry, and is involved in the Canterbury Section of the Society.
Currently, Sitereh undertakes to answer breed enquiries that come in through the Rare Breeds Website, and she also acts as Archivist for the Society.
---