This article was first published in Rare Breeds NewZ number 68, February 2005
The English Leicester
by David Hughes
In the middle of the 18th century Robert Bakewell (1726-1795) began to use animal breeding techniques to develop new varieties of sheep, cattle, horses and pigs on his farm, 'Dishley Grange', in Leicestershire. Breeds he was involved with included Shire horses, Longhorn cattle and Leicester Longwool sheep.

Robert Bakewell
Bakewell used selective breeding to transform the coarsely boned, slow growing sheep with long, lustrous wool, found in Leicestershire for hundreds of years, into the new Leicester Longwool breed. Leicester Longwool sheep were shorter, earlier maturing and had greater fat coverage than the sheep they were developed from.
The Leicester Longwool goes by various names: Bakewell Leicester, Dishley Leicester, New Leicester, Improved Leicester, Leicester or as we call it in New Zealand the English Leicester.
The English Leicester is a large-framed, longwool, dual-purpose sheep producing a meaty carcase and heavy fleece that hangs in compact locks. English Leicesters are polled but the locks of wool on the poll are reminiscent of Bob Marley dreadlocks. English Leicesters have wool on their legs and are usually white, although there are small numbers of coloured English Leicester sheep.
Leicesters were imported into America in the late 1820s. They were also imported into Australia in 1838 and New Zealand in 1843, and were important in establishing the sheep industries of both those countries. At the beginning of the twentieth century English Leicesters were the third most common breed in New Zealand, where they were found on the wetter areas that were unsuitable for the farming of Merinos.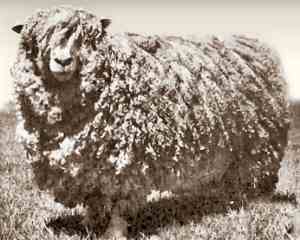 English Leicester in New Zealand, 1970s
In the early 1900s numbers began to decline in New Zealand as new sheep breeds were developed using the same techniques that Bakewell had used 150 years before. English Leicesters are now classified as 'rare' by the Rare Breeds Conservation Society of New Zealand, and Meadows (1997) estimates their numbers at around 15 000. In Australia the Rare Breeds Trust of Australia also classifies the English Leicester as rare – this being defined as a breed with between 500 and 1500 ewes. The English Leicester also suffered a marked decline in popularity in the UK and is classified as a rare breed there today. The breed had largely died out in America by the 1980s when the world's largest living history museum, Colonial Williamsburg, tried unsuccessfully to source some 'Leicester Longwools' as authentic sheep of the 18th century. Eventually stock were sourced from Tasmania, Australia, in 1990 when eight ewes, six lambs and one ram were imported. The breed is classified as critically endangered by the American Livestock Conservancy. Critically endangered breeds have fewer than 200 North American annual registrations and an estimated global population of less than 2000. Clearly this figure is at odds with Meadows' estimate of 15 000 English Leicesters in New Zealand.
English Leicesters were used in the development of other well-known breeds of sheep. In the border regions between England and Scotland the crossing of English Leicester and Cheviot sheep produced the Border Leicester. The English Leicester was one of the sheep breeds crossed with the Merino to produce the Corriedale, and the Halfbred is produced by crossing a Merino with one of the Longwool breeds. Altogether there are over 4.5 million Border Leicesters, Corriedales and Halfbreds in New Zealand (Meadows, 1997).
REFERENCES:
MEADOWS, Graham, 1997. Sheep Breeds of New Zealand. Reed Books, Auckland.
NEW ZEALAND SHEEP BREEDERS ASSOCIATION, English Leicester. Retrieved 31/12/2004 from http://www.nzsheep.co.nz/englishleicester/
OKLAHOMA STATE UNIVERSITY, Leicester Longwool. Retrieved 31/12/2004 from http://www.ansi.okstate.edu/breeds/sheep/leicesterlongwool/
RARE BREEDS CONSERVATION SOCIETY OF NEW ZEALAND, English Leicester. Retrieved 31/12/2004 from http://www.rarebreeds.co.nz/leicester.html
RARE BREEDS TRUST OF AUSTRALIA, Sheep. Retrieved 2/1/2005 from http://www.rbta.org/sheep.htm
• » Breeders Directory listing •
© Copyright