STATUS
New Zealand: Rare
Importation: 1860

Hampshire Sheep
A Rare Breed of British Origin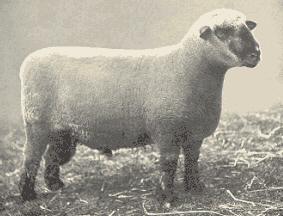 Hampshire ram, 1909
The Hampshire is a typical Downs breed and was developed in the Hampshire county of Great Britain during the eighteenth century by crossing the large Wiltshire with the smaller South Down (see » Southdown breed). Subsequent inbreeding was carried out to allow the Downs type to dominate. It was originally known as the Hampshire South Down.
In 1910 James Long described the Hampshire as "if not the perfect sheep… one of the finest in the world in size, form, colour and early maturing properties… [It] has a golden hoof on soil adapted to its growth …"

Roger Wilton's Hampshire rams, Canterbury (Michael Trotter photo)
It is still an impressive animal with a short Downs type fleece and dark brown face, ears and legs. Essentially a meat breed, the Hampshire arrived in New Zealand in 1860 (Nelson Examiner and New Zealand Chronicle, 12 September 1860, Page 2) and more arrived the following year. This was too early to take advantage of the refrigerated meat trade, and the breed never became popular. Registrations ceased by the beginning of the twentieth century, but the Hampshire was re-imported in the early 1950s from both England and Australia.
In 2008 there were fewer than 2000 Hampshire ewes registered in New Zealand.
© Copyright