STATUS
New Zealand: Rare
Importation: 1980s


Adult Flemish Giant (Photo by Sitereh Schouten)
Flemish Giant Rabbits
A Rare Breed of European Origin
The Flemish Giant breed of rabbit appears to have been developed in the Flanders region of Europe where it was recorded as occurring in Belgium in the sixteenth century.
Before and during the last World War, it was very common in Europe to see these large easy-care rabbits being raised by children, who fed them on garden produce, to provide cheap and healthy meals in hard times.

Doe raising a single kit (Photo by Sitereh Schouten)
The breed was imported into New Zealand from North America in the 1980s, its principal attraction being its large size – it is one of the largest breeds of domestic rabbit. It soon attained a degree of popularity in this country, which it still has today. In 1986 a 10-month old Giant weighting over eight kilograms was imported from Germany and was used to help increase the size of those in New Zealand. Since then no other Flemish Giants have been brought into New Zealand.
The adult weight of a Flemish Giant is around 6.4 kilograms for a buck and 6.8 kilograms for a doe. Breeders aim for a long body length with a large rump, and the ears having a length of around 150 millimetres – the longer the better. By nature they are considered to be "gentle giants."
It can take 12 to 14 months for a doe to reach its adult weight and be ready for mating. To maintain the rabbit's health and to give it a long life, some breeders recommend breeding a doe only once a year, as this will give the kits the best growing time they can get from being with their mother. Weaning can take place when they are from eight to ten weeks old.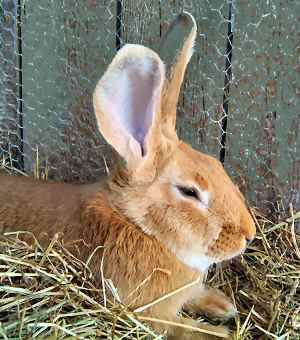 Flemish Giant buck (Photo by Sitereh Schouten)

Colours accepted by the Rabbit Council of New Zealand are: black, white, light grey, sandy, blue, fawn, and steel grey.

Some time after the Flemish Giants were imported into this country, they were bred to New Zealand Whites by a small number of commercial breeders to try and produce a larger carcass with a fast growth rate. The results were not up to their expectations as the cross resulted in an increase of bone to meat ratio – a Flemish Giant will produce bone first before filling out into the large solid rabbit they are. They are often referred to as slow growers.

The Giants were also crossed with smaller breeds to introduce different colours and this has resulted in a reduction in their overall size, with a number of smaller sized rabbits being sold as Flemish Giants in New Zealand. Any adult below five kilograms can't be a giant amongst rabbits and live up to its name!

In 2011 it was estimated that there were about 70 Flemish Giant rabbits in New Zealand.

(Anyone wishing to become an owner or breeder of this large and impressive rabbit should contact the Secretary of the Rabbit Council of New Zealand to find breeders who are working towards keeping their size, colour and looks true to the day they were imported – Rabbit Council of New Zealand, P O Box 56-285, Dominion Road, Mt Eden, Auckland. Email: rcnzsecretary (at) gmail.com)

Thanks to Sitereh Schouten of Natures Pace for the above information and photographs.

• » Breeders Directory listing •

© Copyright