STATUS
New Zealand: Rare
Introduced: 1996
Worldwide: Rare

Norwegian Fjord Horses
A Rare Breed of Norwegian Origin
Mimi, a 27 year old Fjord on the Otago Rail Trail
with 100 K's under the saddle
The Norwegian Fjord horse is an agile breed of light draught horse that developed in Western Norway, where it it thought that their ancestors were domesticated as long as 4000 year ago. It is considered to be one of the world's oldest domesticated horse breeds.
Although they have no height limit they usually range between 13.2 and 14.2 hands (137 to 147 centimetres) high and weigh between 400 to 540 kilograms. They have a very gentle nature, and are known in Norway as the "people's horse."
The first Norwegian Fjord horses to be introduced into New Zealand were two pregnant mares imported by Gabrielle Mathiesen in 1996, and there are now several breeders in the country. Fjords are all dun in colour, ranging from brown, grey, white, red and yellow dun, and all having the distinctive dorsal strip that runs from the forelock and out through the tail with white on either side.
They have been selectively bred to maintain their good nature and versatility, making them excellent either as harness horses or for riding. They are used for carriage, ploughing and farm work, pony club, jumping and even dressage. All types of back country are their forte where their sure footedness, stamina and willingness to work and co-operate with humans is to the fore. They are very sought after by people wanting to get back into riding but have lost confidence, and they are used a lot for riding for the disabled.
The Norwegian Fjord horse's exceptionally hard feet and strong short legs makes them a very low maintenance animal. There is no need to rug them up in winter (if you don't mind woolly horses) but shelter belts both summer and winter are good – their only drawback might be their tendency of eating too much!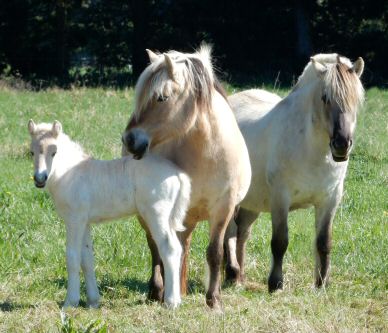 Family group
Enjoying the Central Otago Rail Trail
Thanks to Gabrielle Mathiesen and Eric Marchant of Coalgate for the above photographs and information.
© Copyright