Accommodation and Farm Visits
Listings are in north to south order
Only Farmstay accommodation and FarmVisits who are members of the Rare Breeds Conservation Society of New Zealand are listed below. To add your name and contact details – at no cost – click on » Add to or Alter Directory, fill in the form, and send us a photo. Breeders are responsible for the accuracy of their listings.
NOTE: When contacting advertisers by e-mail, replace (at) with @.
---
Part 7 ~ Rare Breeds Farmstay Accommodation and Visits
---
MATAKANA FARM, MATAKANA
Arapawa Sheep Stud and Farmstay, Bed and Breakfast.
Magnificent east-facing rural views over our lifestyle block to the sea. Quiet, warm location with quality beds and linen. Separate guest lounge opens onto sunny deck. (Not suitable for babies and young children.) We breed Arapawa sheep and have three Highland heifers and four Friesian dairy cows.
Jacky and Norman Corry, 35 Upper Whangateau Road, Matakana (an hour north of Auckland Harbour Bridge). Phone: (09) 422 9221 Fax: (09) 422 9202 E-mail: farmstay (at) matakanafarm.co.nz
---
STONEY OAKS WILDLIFE PARK, TARANAKI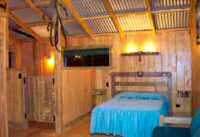 The Barn – where 2-5 people can stay overnight and wake up with the animals (so to speak).
Fallow, Red, and Wapiti deer, rabbits, wild and Kunekune pigs, Highland cattle, Possums, Nubian goats, Jacob-patterned sheep, Ferrets, Donkey, Chinchillas, Alpacas, Tibetan Yak, Llama, Guinea pigs, Miniature Horse, Ostrich, Emu and Himalayan Thar.
356 Kaimata Road, R D 8, Inglewood, Taranaki. See »Stoney Oaks Wildlife Park for details.
---
WEE DRAM FARM PARK, CANTERBURY
Enjoy a fun day out with our animals, get up close, feed some furry babies and learn about "Country life in Canterbury" with Wee Dram Farm Park.
We take group bookings of all kinds including day trips, elderly and disability groups with plenty of parking for cars and buses. We have parking close to the door and a wheelchair friendly outdoor area with picnic tables, disability friendly toilets, and hand washing facilities. We can host from 2 to 200 people, and we offer feed bags and children's pony rides, with drinks and ice-creams in our gift shop.
Karen Findlay, Wee Dram Farm Park, Telephone: (027) 412 2383 E-mail: info (at) weedramfarm.co.nz Website: www.weedramfarm.co.nz
---
WARWICKZ FARM, CANTERBURY
Enjoy a tranquil break in the Red Barn on our rare breeds farm.
Alpacas - Arapawa sheep - Gotland Pelt sheep - Kunekune pigs - Enderby Rabbits - Angora goats - Merino guinea pigs - rare breed poutry and ducks - English Donkey plus all the farmyard favourites.
Enquiries welcome, phone Elaine & Chris Gilberd (03) 325 4116 Main South Road, Dunsandel. Website: www.warwickzfarm.com
---
If you would like to have your own stud or information webpage(s) on this Website – with a link from your Directory entry (see » Associates for the complete list) – please go to the » Information page or contact the » Webmaster for details and costs. Group webpages/websites are also available for Breed Societies and Associations.
---
© Copyright