Priority Listing
Campbell Island Sheep
A Rare Breed of New Zealand Origin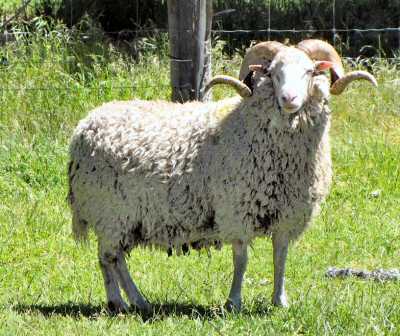 Campbell Island ram in North Canterbury
The first sheep were landed on subantarctic Campbell Island (over 600 kilometres south of the New Zealand mainland) in 1895 after a grazing lease had been taken up. (See New Zealand for the location of Campbell Island.) Two thousand more were introduced in 1901, and a further thousand in 1902. The first introductions are thought to have been Merinos, but a newspaper report in 1904 referred to wool from the Campbell Island sheep as coming from Lincoln-Merino and Leicester-Merino crosses.
As a result, the Campbell Island sheep are one of the few feral breeds known to have anything other than Merino blood. Campbell Island sheep do not have the high proportion of coloured animals that occur in some feral flocks.

Campbell Island ewe and lamb in Canterbury
When farming was abandoned on Campbell Island in 1931 the remaining 4000 sheep were left to run wild. In 1970 half the island was fenced off and the sheep in the northern half were shot out, leaving only those in the southern half. Ten of the latter were brought to the New Zealand mainland in 1976, and by the late 1980s all the sheep remaining on the island had been exterminated. (See The Feral Sheep of Campbell Island for details.)
Descendants of the ten sheep rescued were kept on Government farms, where they were maintained as a purebred flock until mid-2005, when they transferred to private ownership – this flock is still in existence in North Canterbury. Some breeding up (see Grading Up Programmes) was undertaken at Invercargill from rams released from the purebred flock, however this flock has died out.

Campbell Island ewes and rams in North Canterbury
• Breeders Directory listing •