John Earney and Ruth Healey, along with our children Samuel and Ila, 1170 Makuri Road, R. D. 25, Stratford, Taranaki, New Zealand. Phone: (06) 762 7992 E-mail: avonstourisland(at)gmail.com
We have just completed a self-contained sleepout to enable out-of-town customers to stay over when calling.
Our breeds include: Belted Galloway, Sussex and Dutch Belted cattle, Dorset Horn, Arapawa and Wiltshire Horn sheep, Nubian goats, Wessex, Large Black, Tamworth and Euro pigs, English, Tricolour, Spotted and Gipsy ponies, Australian donkeys, Polish fowls, Blue Muscovy ducks, Peafowl, Guinea fowl, King and Archangel pigeons, Beardie Collie dogs – with our children working with fish and caged birds.
Major Breeder of Minority Breeds
DONKEYS: Jerusalem, calico, chocolate, white and grey coloured donkeys. Bred from sound stock out of Champion show winners. Ideal for pets, carts, riding and to run with other stock to help prevent dog attacks.
NUBIAN GOATS: At Avonstour we have always milked and run a few goats of mixed ancestry. In the year 2000 we decided to change to purebred registered Nubian goats. We have found this change to be very positive – the Nubians are less pressure on fences and they are great mothers that give good creamy milk. We have found that the Nubian has a much better body for the meat market. They are also far tougher than other breeds. This adds up to a far more profitable farming proposition for us. Nubian goats make great house milk goats and pets. Some breeding stock available soon.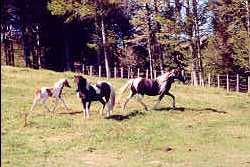 GYPSY PAINTED PONIES: Gypsy ponies have been bred for all-round use – riding, cart and draft work. They have been developed from a combination of draft, pony and cob, but are now bred as a pure line. They are mostly black and white, but sometimes red or bay and white or tricoloured. Size 12 1/2 hands to 15 hands (usually around 14 hands). Great stock ponies "that think".
EUROPEAN WILD PIGS: [Reg. New Zealand Pig Breeders Association] We have bred these pigs for ourselves for 25 years. Euro pigs are hardy and can make good pets. They are born with stripes from nose to tail, fading when about six to nine weeks old. Colours range from yellow-sandy through to red-black. They have long manes and hair in winter with a woolly undercoat. They are great mothers, farrowing twice a year. The pork from the Euro is different from other breeds in that even when they are kept in a sty and fed the same as other breeds, the meat is pink when cooked and not white. This pork is a great tasting meat and is sought after by food connoisseurs. Older boars are sought by Safari Parks. Young and breeding stock sometimes available – sorry, we don't sell weaners.
WESSEX SADDLEBACK PIGS: [Reg. New Zealand Pig Breeders Association] We have been heavily involved in showing our pigs and have gained many top prizes – Royal Show Champion Palmerston North 2003; Mini Royal Show Champion Stratford 2002; Rare Breeds Champion Stratford 2000, 2001, 2002, 2003; Best Sow, Best Boar, Best of Breeds at many shows. Wessex are hardy, sound, outdoor pigs, with good health and great mothering ability – heavy milkers. Ideal for cross or pure breeding, producing pork that has a high taste value. Breeding stock usually available.
WILTSHIRE HORN SHEEP: At Avonstour we run fifty purebred Wiltshire Horn ewes as a stud flock. Any lambs not up to stud standard are worked and grade very well with most going in the "Y" category that our buyer wants. Selected stud rams usually for sale from this easy-care sheep.
DORSET HORN SHEEP: [Flock No.93, New Zealand Sheep Breeders Association] At Avonstour we run 150 pure Dorset Horn ewes. We select for easy-care, fertility and type. The goal is to have sheep for out-of-season lambing. Dorset Horn rams will bring the common breeds (Romney, Perendale etc.) into season up to eight weeks before normal. Selected rams and ewes for sale when available.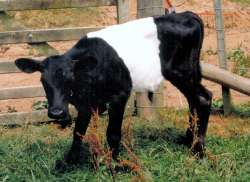 DUTCH BELTED CATTLE: Over the last decade we have been breeding Dutch Belted cattle – otherwise known as the Lakenvelder. Bred from semen from the USA via Mohakatino Genetics. Our herd stands at 45 cows plus replacements. We lease cows to dairy farms to be milked and tested, where they have proved to be well above the average dairy cow in production with high protein. Some cows available for lease – pure and part-bred bulls sometimes available.
POULTRY: Greylag geese, Peacocks, Peahens, Guinea fowl, Archangel pigeons, Polish chooks.
Polish Chooks – "Everlasting layers". Good free-range chooks, hardy and rare – good mothers.
King Pigeons – "In a class of their own". Very heavy breasted birds, not good flyers, lovely for eating. Quiet.

We have been involved with the Rare Breeds Conservation Society of New Zealand since its inception. We have been very acvtive at A&P shows where we have run livestock stands and shown donkeys, sheep, pigs, horses, goats and poultry, with many Champions, Best of Breeds, New Zealand Royal and North Island Champions to our credit. We strive to improve the image and farm ability of Rare Breeds.
Since we purchased a larger farm in 1978 (170 acres) we decided to totally farm Rare Breeds. To achieve this we have concentrated of registered purebred stock and are members of many Breed Societies and clubs. We have sent stock all over New Zealand and hope we will continue to do so. We also supply specialist meat outlets.
We believe in a heavy selection process and will not breed from something just because it's rare – it must shape up and be productive. By keeping a stringent culling line, we have been able to supply both large commercial farms as well as people who just want a pet.
Please don't hesitate to contact us if you want to get into some top foundation stock. But if you plan to visit us please phone in advance, as we are not a public park but a working farm.
John Earney and Ruth Healey, and our children Samuel and Ila, 1170 Makuri Road, R. D. 25, Stratford, Taranaki, New Zealand. Phone (06) 762 7992