This article was first published in the New Zealand Rare Breeds NewZ, number 66, August 2004.
Arapawa Goats in the USA
By Al Caldwell
Goats from Betty Rowe's Sanctuary on Arapawa Island were imported into the United States in 1993 by Plimoth Plantation, a living museum of colonial life in North America in 1627 located in southeastern Massachusetts. The possibility of a connection between the Arapawas and the animals brought to North America by the first colonists made them a logical addition to the rare breeds collection at Plimoth Plantation.

Arapawa goats in the USA
(Photo by Al Caldwell, USA)
The founder herd had three bucks and three does, all of unknown parentage. Since the early '90s, the lines have been crossed and re-crossed to make the most of the genetic material available. Last summer a goat census was taken by the American Livestock Breeds Conservancy (ALBC). We counted 87 live animals, 53 breeding females and 34 intact males. They were located in 10 satellite herds across the US from Massachusetts to Oregon in the far northwest. The number now is passing 125 goats. John Truelson, the Barn Manager at Plimoth Plantation, gets high marks for overseeing the breeding combinations and establishing the satellites. We counted 42 animals having no common relatives through three generations.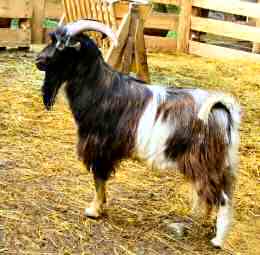 Arapawa goat in the USA
(Photo by Al Caldwell, USA)
The reasons for investing in the Arapawas varies from curiosity to, more commonly, a conviction that genetic conservation is vitally important in our society. One breeder with a dozen goats writes, "I can see these smaller, sturdy goats contributing greatly to world problem areas. Their size and mass would make them ideal for small farms, contributing milk, meat, pelts, and leather without a great deal of feed. They already know how to forage and survive in a hostile environment." She will be breeding a 'bottle' baby and experimenting with milking on the stand.
At our small farm, we are using the goats, now 18 of them, to clear underbrush from a forest of red oaks, which they do with relish. Contrary to some reports, they are breeding in all seasons, twin more than half the time, and have kids more frequently than once a year. Birthing is unassisted. Health issues are almost nonexistent. The hardiness they show makes me confident that there is a valuable place for the breed as it evolved during their feral time on Arapawa Island.

Arapawa goat in the USA
(Photo by Al Caldwell, USA)

We are beginning to develop an association of breeders. The registration of purebreds has been a discipline from the beginning. The ALBC has included the breed on their latest Breeds Conservation Priority List in the 'Study' category. They are somewhat reluctant about accepting feral breeds from outside North America. But, since the origins of these and several other goat populations has not been definitively determined, the Arapawas may well have links to the animals brought to North America with the colonists. DNA research on this subject is of great interest here.

Having only six animals in the founder herd suggests that we most likely do not have a complete genetic match for the New Zealand breed. Importing more animals is expensive and time consuming. Bringing in semen from NZ goats makes more sense and is the direction we have begun to investigate. The conservation efforts do seem to be on a good path with growing numbers here and now in the UK, and of course, in New Zealand. We appreciate your support and enthusiasm.

Al Caldwell is the Registrar of Arapawa Goat Breeders USA. He can be contacted at alspond@comcast.net or E. L. Caldwell, 88 Gorham Street, Rehoboth, MA 02769, USA.

© Copyright