Arapawa Goat AI Trial
Artificial Insemmination Experiment

Jim McPhee and Steve Nettleton preparing one of the Arapawa does
At the 2008 Annual General Meeting of the Rare Breeds Conservation Society of New Zealand, approval was given to carry out a trial project on the artificial insemination (AI) of Arapawa goats. The reason for this was that two batches of semen sent to Arapawa goat breeders in the United States had produced nothing. There seemed to be three main possibilities for this: the semen was no good, the methods used were inappropriate, or (as some people suggested) AI techniques simply would not work on feral goats because of their long tight cervix.
The matter was considered important not only for the sake of the American breeders. If feral goats could not be inseminated artificially it could cast doubt on the value of collecting the semen and storing it in the Rare Breeds Gene Bank for the future survival and wellbeing of the breed.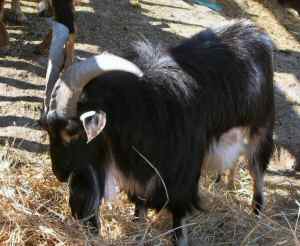 Arapawa II – the sire of the AI kids
In the course of obtaining information beforehand, it almost became an international project with input from knowledgeable and experienced people in New Zealand, the United States and Great Britain (see Acknowledgements below).
For the trial, eight female goats were made available, all bred by the Summer Wine Stud in North Canterbury, although two of them were now owned by the Willowbank Wildlife Park in Christchurch. Xcell Breeding Services provided staff, equipment and expertise – and this greatly facilitated all aspects of the trial. Grateful acknowledgement is made of Xcell's sponsorship and advice throughout the whole project.
Using Gene Bank semen collected from David Hughes' Arapawa bucks at the same time as that sent to America, the sedated does were AI'd on 27 April 2009 after several weeks of preparation, great care being taken throughout to ensure that the goats' stress level was kept to a minimum. A brief summary of the procedure is as follows:
Day 0 (8 April 2009, 4 pm) CIDRs inserted; mineral drench given. One doe showed signs of discomfort for two days. All had a slight discharge.
Day 17 (25 April 7 am) CIDRs removed and 200iu of PMSG injected.
Day 18 (26 April 9 am) The goats were penned without food or water. Three showed signs of being in season and by the afternoon all were showing signs of being in season – tail wagging, mounting, Flehmen response, open-mouthed panting, jostling, butting and licking.

Scan of Holly
Day 19 (27 April 8 am) The goats were all very quiet and no longer behaving as in season. At mid-morning Xcell vet Jim McPhee, Steve Nettleton and Sheree Hourston arrived with their gear. The goats were sedated, given an antibiotic injection, then AI'd laparoscopically (51-52 hours after CIDR withdrawal), using frozen semen from the same collection that had been sent to the US. A watch was maintained on the goats for next few hours as they came out of sedation to ensure they lay on their briskets to avoid risk of bloat. By the afternoon all were on their feet although some were still groggy.
Day 55 (2 June) Scanning showed that only two of the eight goats had taken – 'Holly' appeared to have two embryos (photo at right above) and 'Bev Goat' had one or two.
The scanning operators suggested that the reason for the low conception rate was that the does were too fat. The recommended procedure (which had not been followed) is to start with the animals in leaner condition, then build them up over a period of several weeks so that they are putting on weight at the time of insemination. This "flushing" process is commonly used in sheep farming, and results in a higher percentage of pregnancies.

Holly and her triplets, three weeks old
Normally, DNA testing of any offspring would be considered advisable in a project of this nature – to make absolutely sure that the pregnancies were not the result of unplanned natural matings – but as there were no bucks (or even wethers) on the property or anywhere else in the district this procedure was omitted.
In September the goats that had been successfully artificially inseminated produced their kids. Bev Goat (now back at Willowbank) had a healthy girl and a small boy – the latter born dead. Holly at Summer Wine had triplets – all girls. Concern that the mother, a maiden doe, might have difficulty in feeding three kids proved unfounded, and the triplets grew up healthy and strong without supplementary care.
Acknowledgements: Thanks are due to the following who actively participated or provided advice – Greg Mckay, Jim McPhee, Steve Nettleton, Sheree Hourston, Jo Ramsey, Ian MacDonald (all from Xcell Breeding Services), Martin Dally (Super Sire, US), Marilyn Burbank (US breeder), Christine Ball (UK Breeder and experienced user of AI on other goat breeds), Dr Gabby Foxworthy (US Global Genetics), and Jeannette Beranger (American Livestock Breeds Conservancy). The semen came from David Hughes' bucks, and the does were made available by Michael Trotter and Michael Willis.
• » Breeders Directory listing •
© Copyright