Based on an article that appeared in Rare Breeds NewZ for February 2016

The Suffolk Punch in New Zealand
Advertisement in an Auckland
newspaper, September 1847
The Suffolk Punch draught horse was imported into New Zealand in the 1840s – as evidenced by an advertisement in the New Zealander on 25 September 1847 – but it probably did not survive as a pure breed when tractors increasingly took over from draught horses for farm work a century later.
They were re-introduced in the late 1980s by a Mr and Mrs Lee who imported two mares, one with a colt foal at foot, Barney (later gelded), and a yearling colt called Prince Charles. Shortly after their arrival it was found that one of the mares was in foal and she gave birth to a filly, Carrot, who was purchased by Bonnie Smith in Southland. It is understood that they came from Hollesley in Suffolk (England) which is the home of The Suffolk Punch Trust.
Prince Charles sired a colt, Mistyvale Oberon, by one of the mares, and this colt was purchased by Mike Ashburn in Glenbrook, South Auckland, along with one of the original Hollesley mares, Colony Zodiac, and her daughter Calcott Calendula. Mike bred several fillies from Oberon, three of which were exported to Australia. One of the Australian breeders sent back a colt, Capleach Jackson (whose grandsire was Oberon), in return. The exports to Australia were an important boost to the Suffolk Punch numbers in that country which, like New Zealand, had experienced a virtual extinction of the original breed population. At that stage the future for the Suffolk Punch in both countries still looked promising.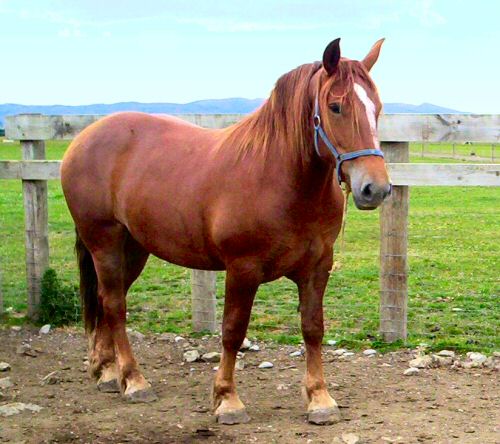 Bonnie Smith's Suffolk Punch filly, Carrot, in 2003.
A few years later, however, this was no longer the case in New Zealand. Jane Greenman, writing from Australia in 2009, knew of only one breeder with three purebreds in New Zealand and only seven purebreds in Australia – the breeders had met to discuss new bloodlines and breeding programmes.
Then at the beginning of 2012 Jason Cruse contacted the Rare Breeds Conservation Society of New Zealand seeking help to bring a 13 year old mare from Southland to the North Island to be mated with a stallion in Auckland. Jason had been unable to find any other Suffolk Punch horses in New Zealand. The cause was taken up by Ross Fraser, Committee member and past president of Rare Breeds Society – he contacted the mare's owner and they were looking at either transport to Auckland or Artificial Insemmination to take place in the spring. Sadly, Ross died before anything further was done.
Other people were also concerned at the plight of the Suffolk Punch breed in New Zealand and the project was later reactivated. A summary of the present situation can be seen at the Suffolk Punch Rescue Project.
Thanks to Bonnie Smith for information, supplied in 2003 and 2019, on the 1980s introduction and their progeny.
• Suffolk Punch breed page •
• Suffolk Punch Rescue Project •
© Copyright